It all started in February 2021 when we came together as a part of this particular course called 'AfterFive Agency' for the first time. Interestingly enough, it was not only the first time for us but also in the history of ICM! Inge Jamaels, lecturer and programme coordinator, greeted us in an online call and explained the purpose of this class. We were given several projects revolving around marketing, content creation, graphic design and more for the international communication and media programme here at Thomas More. Soon after, we realised it was more than just another course to take for us. We grew close as a team and as friends while working on something meaningful. Over just a few months, we had the opportunity to work on different types of content, manage ICM's Instagram account, and learn a lot about various media.
The coolest team ever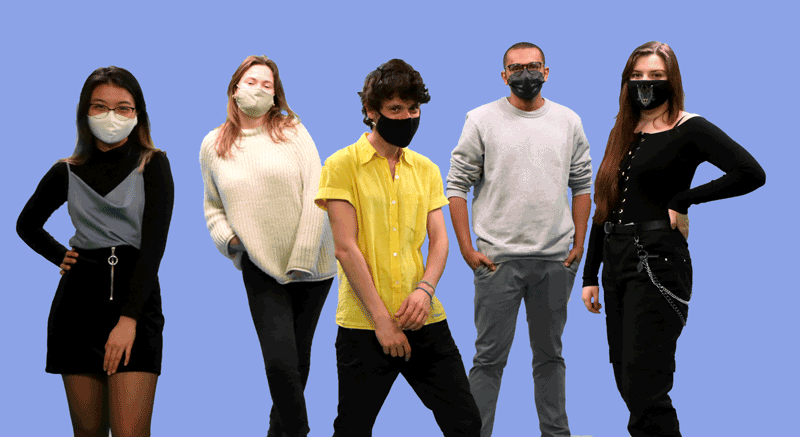 Naturally, being a part of ICM and knowing the programme almost inside out, as well as being passionate about our Thomas More community, made us the perfect fit for the job. As the AfterFive team, we have come together to be creative, learn new things, gain experience and to deliver great results. We are five international students who have all travelled to Belgium to study international communication and media. What makes us unique, are our individual origin stories, coming from five different countries and four different continents. Our distinct cultures give us many varying perspectives and approaches to projects.
What Shamba thinks of ICM & AfterFive
Our (very, very hard) work
As mentioned before, for this course we received several briefings from our lecturer Inge. The goal was to begin building a community as well as recruiting potential students by creating content (e.g. videos, pictures, social media posts) and marketing material for ICM. We met online every Tuesday and on campus every Friday to work on our projects. Throughout the process, we could always ask for additional coaching if we wanted to learn something specific, for example how to make a podcast or an elevator pitch video. Besides Inge, we also received guidance from other lecturers, including Peter Van Edom, Pieter Van Herreweghen, and Geert Van den Eijnden. Being specialists in different fields of communication, they were incredibly helpful and gave us useful insights.
You might wonder: "Briefings, coaching, project work – that sounds complicated." Here is how we managed to get through it all and how future AfterFive students can as well:
First we discussed the briefing and who is going to focus on what.
Then we all brainstormed different concepts and ideas of what kind of final products we wanted to deliver.
After that, chaos ensued and we all got started with the project work that usually lasted a few weeks.
Lastly, we presented our concepts, strategic insights and deliverables to our lecturers who offered us feedback and showed us what we could improve.
As for what we have created: Did you expect that a lot of content on this website was made by AfterFive? You might also recognise some of us from the video on the homepage! In further detail, we have dealt with a whole list of tasks throughout these months as part of the student agency. This includes (but is not limited to): research, graphic design, videography, podcasting, copywriting, and more. Thanks to the structure of this course, we were given creative freedom, which we gladly used to explore our fields of interest.
It was all worth it
Looking back at the past months, now that this course is almost over for us as the current (and first ever) international AfterFive team, we were all more than glad to have been a part of this. We gained a lot of experience, had so much fun together, and learned about what 'communication' means. For the future generations, we hope that you will gladly take this opportunity as well. This course is a great way to explore your skills with the guidance of helpful and kind lecturers. You can make great connections with fellow international students and create something impactful for Thomas More's ICM community.
Last but not least, a big 'Thank You' is in order for Inge Jamaels, who put this course into motion for the international programme, as well as Peter Van Edom, Pieter Van Herreweghen, and Geert Van den Eijnden, who always gladly offered us their support and expertise to achieve the great results we have.