We hope you have had happy holidays! Here is a list of traditional recipes from our international students. There are surely some lovely dishes you should definitely try out. Don't know yet what to cook for New Year's Eve? We got you covered!
Olivier and Red Caviar
Submitted by Lizzi Wuyts (Russia)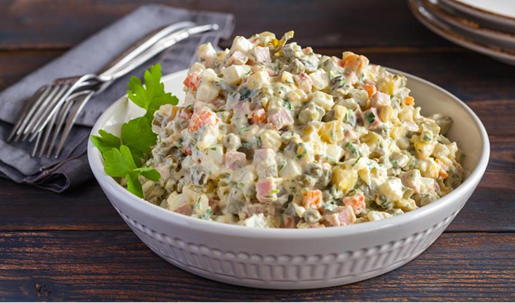 We don't really celebrate Christmas in Russia, our main celebration takes place on New Year's night. It's impossible to imagine Russian New Year without Olivier salad (and many other mayonnaise salads:). It's a bit weird for Europeans when they hear the recipe, but everyone likes it once they try it.

All you need to do is boil vegetables (carrot, potatoes), cut them in small pieces, mix with the small cubes of bologna sausage, cucumber, pickles, eggs and dress it with Russian mayo (yes, there is a difference).

The taste of this dish together with red caviar sandwiches brings me back to childhood and makes me ultimately happy. Also, my granny always tries to "decorate" the dishes, but most of the time she just puts a small leaf of parsley on top.
Pierogi
Submitted by Nina Hess (Poland)
Pierogies are crucial for Polish culture. It's the symbol of Polish cuisine. There is not a single Polish person who has never tried Pierogi .I feel it's the meal that connects Polish people.


In a food processor, combine flour and salt; cover and pulse to blend. Add water, eggs and butter; cover and pulse until dough forms a ball, adding an additional 1 to 2 tablespoons of water or flour if needed. Let rest, covered, 15 to 30 minutes.


Place potatoes in a large saucepan and cover with water. Bring to a boil over high heat. Reduce heat; cover and simmer until tender, 10-15 minutes. Meanwhile, in a large skillet over medium-high heat, saute onions in butter until tender.


Drain potatoes. Over very low heat, stir potatoes until steam has evaporated, 1-2 minutes. Press through a potato ricer or strainer into a large bowl. Stir in cream cheese, salt, pepper and onion mixture.


Divide dough into 4 parts. On a lightly floured surface, roll 1 portion of dough to 1/8-in. thickness; cut with a floured 3-in. biscuit cutter. Place 2 teaspoons of filling in center of each circle. Moisten edges with water; fold in half and press edges to seal. Repeat with remaining dough and filling.


Bring a Dutch oven of water to a boil over high heat; add pierogi in batches. Reduce heat to a gentle simmer; cook until pierogi float to the top and are tender, 1-2 minutes. Remove with a slotted spoon. In a large skillet, saute 4 pierogi and onion in butter until pierogi are lightly browned and heated through; sprinkle with parsley. Repeat with remaining pierogi.



Rabanadas

Submitted by Joana André (Portugal)

The dessert I would like to share is Rabanadas. Anyone can make make them, but not everyone can master them 🤫
I'm from an island called São Miguel in the middle of the Atlantic ocean 🏝️🌋. Rabanadas are known here, but they are actually part of the tradition of Porto, the 2nd biggest city in Portugal (situated in the north of the mainland).
They look like brown french toasts with sugar on top, but believe me, 🤤 they are so much more than that. They are usually eaten only during Christmas (24th, 25th and leftovers hehe) and I haven't had one without them! 🥰
The best memory I have from them is that everyone makes space for rabanadas after the hot dishes. Is the very first dessert people want to eat before it ends or the very first thing people want to eat on a Christmas breakfast 🎅

For 10 doses all the ingredients you'll need are:

2 units of eggs
2 egg yolks
300 grams of white sugar
1 lemon peel
0,75 L of red wine
250 grams of honey
1 cinnamon stick
1 dessert spoon cinnamon
500 grams of baguette bread
vegetable oil to fry (only the enough amount)
Cooking steps:
Cut the baguette bread into slices about 1 cm thick. Heat the sugar with 2 dl of water, the butter, the cinnamon stick, the lemon peel and a pinch of salt.


Let it boil for 5 minutes. Remove from the heat and place the slices of bread in the hot syrup. Drain over a sieve or strainer.


Then, pass the slices through the beaten yolks with whole eggs and brown in hot oil. As the toasts are fried, place them in a deep dish and sprinkle with sugar and cinnamon.


Separately, the red wine is mixed with honey, powdered cinnamon and, if the wine is green or harsh, sugar. Put it on the fire just to bring it to a boil and pour it over the Rabanada. Then turn carefully so they don't break.


Important note: French Toasts are usually golden, but Original Rabanadas from Porto are brown.
Sweet Rice
Submitted by Mariana Alves (Portugal)
I choose to give you our Sweet Rice recipe, similar to Arroz con Leche!

Put the rice (1 cup), water (3 cups), cinnamon sticks and lemon rind to cook over low heat.


When the water and rice dries up, add the milk (4 cups) and sugar (1 cup).


When it boils, lower the heat and let the milk thicken (until it becomes creamy), stirring occasionally.


Make it in a deep pot, and wait until the milk rises.


Sprinkle with powdered cinnamon before serving.


That's it!! Enjoy!
Salty Christmas Tree
Submitted by Agnese Tonelli (Italy)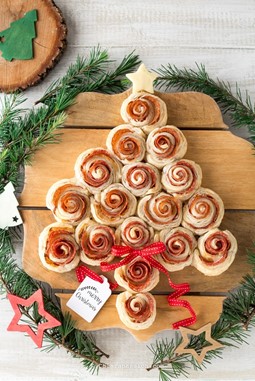 I chose this recipe because it's student-friendly (easy to make and cheap), but we have a lot of traditional recipes in Italy: the most popular is making your own pasta for Christmas lunch. We also have two traditional "cakes/sweet bread" as dessert: Pandoro and Panettone! One of the most heated debates in Italy is which one is the best (Pandoro, if you ask me). Buon Natale!

Put the rice (1 cup), water (3 cups), cinnamon sticks and lemon rind to cook over low heat.


You'll need puff pastry, ham (or veggie ham, if you prefer), and sliced cheese.


Lay down the puff pastry and put on it a layer of ham and a second layer of cheese.


Place them in a baking dish in the shape of a Christmas tree and bake for 30 minutes at 180 degrees. Enjoy!