Raùl sees smiling students from over 80 countries in Mechelen.
Last week, the Belgian government lifted the COVID-19 regulations that obliged university students to wear a face mask in class for almost two years. At Thomas More in Mechelen, international students from all corners of the globe are elated. 'Finally the masks can come off', says Raul from Spain.
From Albania to Zimbabwe
A recent study organized by Thomas More revealed that the university is home to international students from over 80 different countries, with people enrolling from Albania to Zimbabwe. The end of the restrictions was particularly welcomed by students in the International Communication and Media (ICM) program, a one-of-a-kind bachelor's program that's popular with students who want to study abroad in Europe, and bridges the gap between marketing and new media, but with a distinct international focus.
"After countless hours of online classes and restricted interactions with fellow students and teachers, studying finally feels real now," said Paula Pawlowski, a German student in the ICM program.
(read on below the image)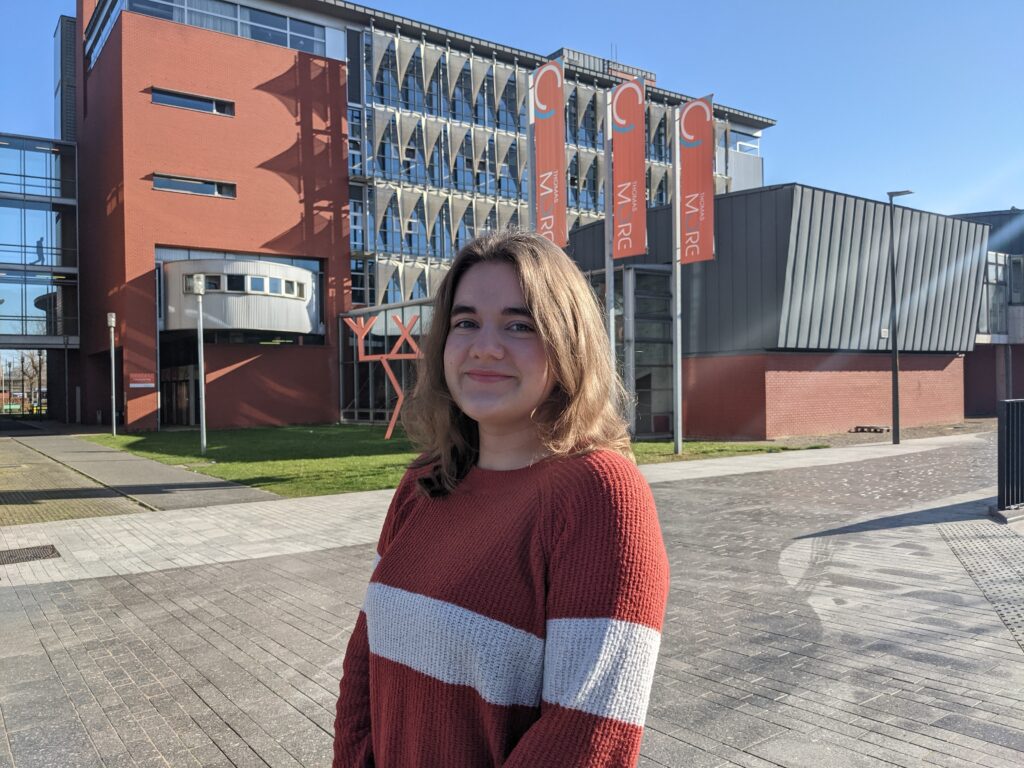 Face masks have been a staple of everyday life since the spring of 2020. And while the continuous confinement and strict contact rules have had a big impact on virtually everyone, foreign students, often stuck abroad with no real opportunities to go back to their family, have been hit harder than most.
"It was a difficult time when COVID hit, especially when, like us, you've literally just moved to a new country and all of a sudden everything is closing down and there's no opportunity to even start meeting people," said Dominican student Alisha Henderickx.
Belgium, the heart of Europe
Belgium has always been a popular destination for students who want to study abroad, with both the country's central location in Europe and the presence of numerous international companies and institutions being big pluses for anyone interested in studying internationally. On top of that, the historical city of Mechelen, conveniently located right between Antwerp and Brussels (and just a two hour train ride from both Paris and Amsterdam) offers international students the perfect combination of bustling city life with a small-town vibe and plenty of parks and forests to relax.
According to an international report, the pandemic posed challenges for university enrollment across the globe, but Thomas More welcomed international students from 34 different countries eager to start in the International Communication and Media (ICM) program this academic year.
"It's a testament to the strength of our program that, despite the pandemic, so many students were eager to enroll," sais Inge Jamaels, director of ICM.
The power of International Communication and Media
The majority of the international students in ICM come from Europe, mainly from countries like the Netherlands, Germany and Spain, attracted by the program's previously mentioned connections with the multinationals and political institutions that call Belgium home. Others have been drawn to the particular hybrid blend of both marketing and media classes that makes ICM stand out from similar programs – the school even has an in-house radio lab and TV-studio where students can hone their craft and spend plenty of time experimenting with new media formats.
Apart from those diverse career opportunities and the program's innovative approach to blending two fields of study, the bond between fellow students and teachers, who often closely collaborate on projects, is what appeals most to the current batch of international ICM students. It's that strong sense of community that both students and teachers missed the most throughout these past two years. And it is that exact boundary- and border-crossing feeling of togetherness that immediately started blossoming again the moment the restrictions were lifted.
Or, as Henderickx put it, "with all these students from all over the world back on campus, we're now finally starting to feel that real international vibe at Thomas More again".